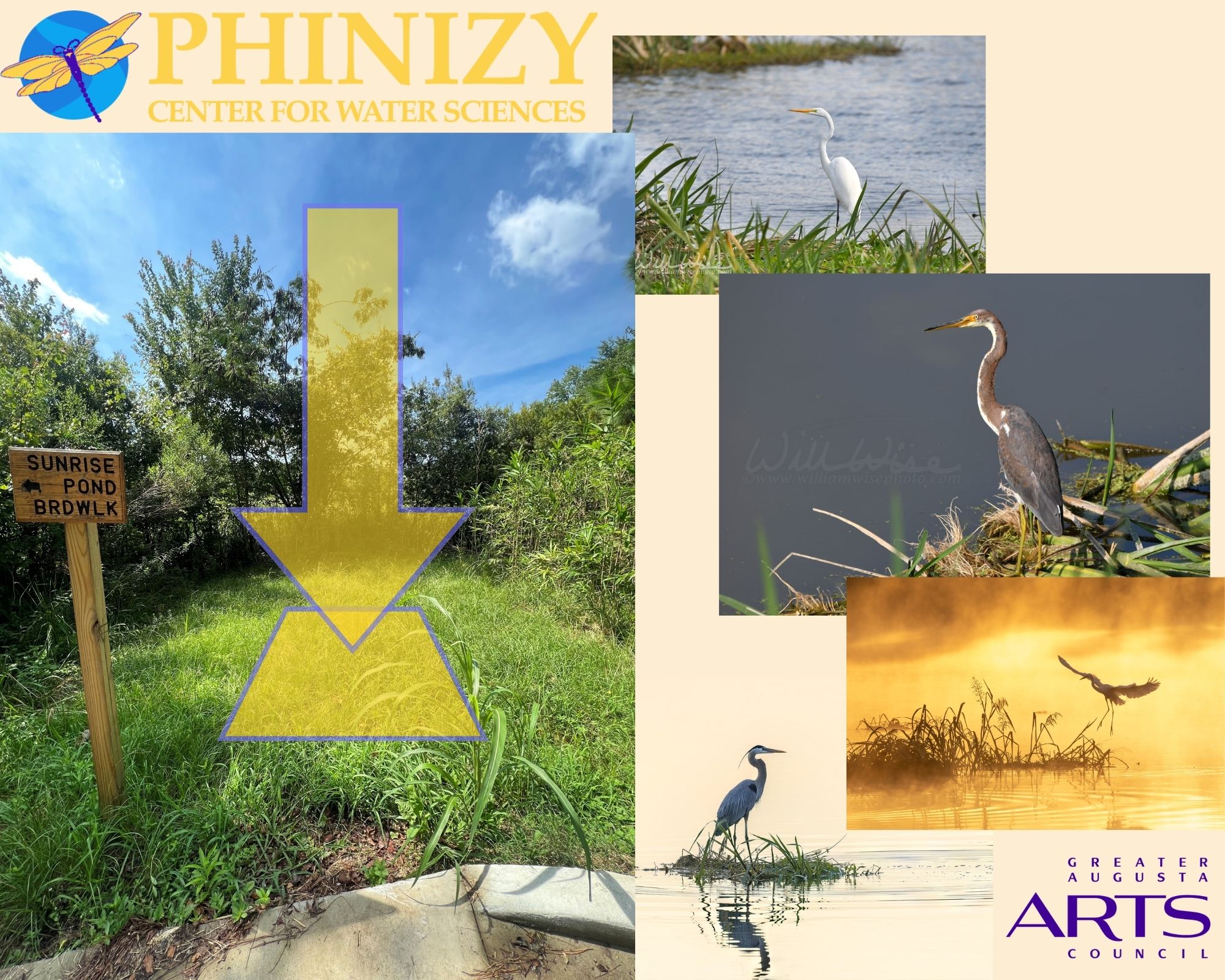 Deadline to Apply: October 23, 2023
The Greater Augusta Arts Council, on behalf of the Phinizy Center for Water Sciences, is requesting proposals from qualified sculptors or artist teams to create a unique, durable, low-maintenance, safe to touch, larger-than-life-sized sculpture of a heron (or group of herons) to be placed on the grounds of the Phinizy Center.
The sculpture is intended to last for 50 years minimum in good condition, and to be a realistic representation of a heron (or group of herons). Phinizy is home to many herons, egrets and other birds throughout the year, as well as devoted bird-watchers, so ensuring that the sculpture resembles an actual heron is ideal.  The GIS coordinates to pinpoint the location on Google Maps are 33.387700, -81.963535.
Every artist who applies for this call is strongly encouraged to research the history, purpose, programs, scholarship, and physical grounds of the Phinizy Center online at https://phinizycenter.org/. In-depth questions about the Phinizy Center can be answered by Ruth Mead, Education Director.
Selected artists will receive a stipend of $15,000 to cover all expenses associated with the envisioning, creation, transport and installation of the sculpture, and any and all other expenses the artist might encounter.
Installation: May 2024
This sculpture call is made possible by a generous grant from Georgia Rehabilitation Institute, Inc., a not-for-profit corporation that serves to better the lives of persons with disabilities and the elderly population in the Central Savannah River Area (CSRA). To increase access to the arts for those without easy access to indoor art installations, GRI will support the fully accessible installation of public art in Augusta, GA.  This request for proposals is part of the Phinizy Center's long-term plans to increase accessibility to its walking trails, and its desire to incorporate mission-related public art into its site.
Artists may apply up to 5 times with separate proposals.  Please do not submit different concept proposals in one application.  Each application must be for one, individual design.  Applications that contain multiple proposal designs will be disqualified.
Website for more Information: https://augustaarts.com/calls-for-artists/heron-sculpture-for-phinizy-open-call-due-oct-23-2023/