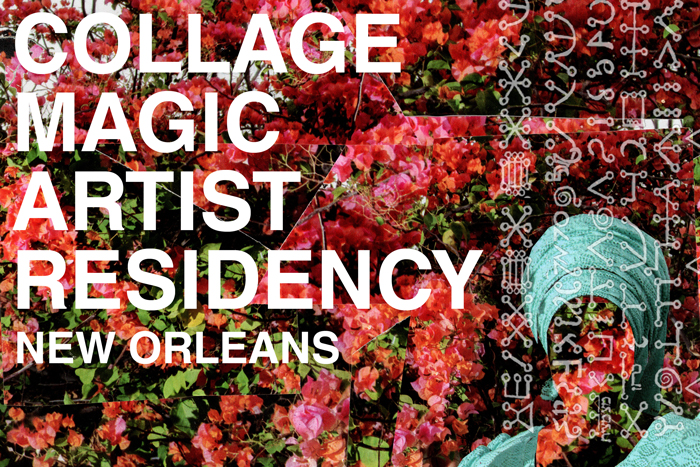 Deadline to Apply: September 24, 2o23
Submissions will be reviewed on a rolling basis until space is filled. Artists are encouraged to apply well before the deadline. Also, please note, responses may not be sent out until two weeks after the deadline.
In our scientifically-minded modern world, little room is left for the the mystical, the esoteric, and the magical, but we contend that such things, irrational as they may be, are fundamental to the human experience and necessary liminal spaces in which people experience joy, process trauma, or otherwise work through complicated emotions that a rationalistic society is not set up to handle, if it doesn't actively reject them. Magical traditions are often ancestral and also deeply embedded in communities. Many practitioners (particularly those of older generations) experience shame and ridicule when speaking openly about their experiences. For those living a diasporic existence, magic can be a fundamental connection to a homeland.
Artists have a role to play in nurturing and supporting magic traditions. Through our artwork, we can share stories, demystify histories, reinforce ancestral or community connections, and celebrate magical practices in ways that are safe, comfortable, and legible. We can make visible cosmologies other than those of the prevailing culture and hold space for alternative worldviews. At various times, such work can be profound acts of resistance, caring, or celebration. With its history of surrealism, collage in particular lends itself to this work.
Designed for collage artists, professional development sessions focus on artist practice: topics include Collage in Theory; Copyright & Appropriation; Developing Context; Collaboration; and Collage in Presentation. We will explore contemporary art that references magic, altar making, and ritual practice and take a walking tour of New Orleans and explore the city as an archive of magic. A visit to the Historic New Orleans Voodoo Museum will afford us the opportunity to consider how contemporary practitioners are engaged with magic traditions in the 21st century.
Louisiana-based artist and community worker LaVonna Varnado Brown will lead the four-hour workshop, "Uses of the Erotic", the title of which comes from an essay by Audre Lorde which begins. "There are many kinds of power, used and unused, acknowledged or otherwise." The workshop is a process by which we will raise our awareness of the erotic and its use as a source of power, healing, and self exploration. The erotic is a conduit to harness energy from a heart-centered space. We will engage in collage exercises and explore our will to create space to intentionally explore the use of the Erotic as power through symbols, printed image, and composition work ending with a collage in process. The power of the Erotic awakens the knowledge that satisfaction is possible. Join with the intention to explore as we make, discuss, and contemplate our will to access pleasure.
Residents will make a collage that will be published by Kolaj Institute in a book about collage and magic. The artwork will be exhibited at Kolaj institute during Kolaj Fest New Orleans, 12-16 June 2024. Artists who wish to develop proposals for larger contemporary art projects (books or exhibitions) will be invited to submit proposals for consideration.
WHO IS THIS FOR?
The Collage Magic Residency is in-person and centered on collage artists who want to develop their artist practice. Residencies are intended for self-motivated artists, regardless of the stage in their career, who want to develop their practice by exploring a topic or working method and collaborating with others to produce a final product and who want to develop a practice of making artwork that speaks about the role of magic in communities.
COST
The cost of the residency is $750 per artist; however, no artist will be turned away for lack of funds and the organizers will work with artists to build a financial aid package.
Travel to and from New Orleans, accommodations in New Orleans, and all meals are the responsibility of the artist. Activities such as the visit to the Historic New Orleans Voodoo Museum and to the New Orleans Museum of Art are included in the fee.
HOW TO APPLY
Submit your application HERE.
APPLICATION PROCESS
The submission process asks applicants for:
• Contact information
• Artist Bio (50-250 words)
• Statement of Artist Practice (50-300 words)
• 5-7 examples of artwork (still or moving images or links to other films)
Website for more information: https://kolajmagazine.com/content/content/calls-for-artists/call-to-artists-collage-magic-artist-residency/